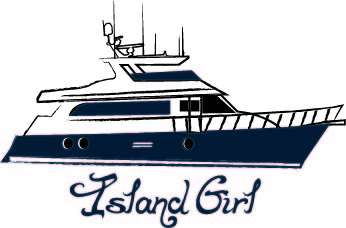 Availability
| Start Date | End Date | Details |
| --- | --- | --- |
| Nov 11, 2019 | Dec 15, 2019 | Transit: Fort Lauderdale, Florida* to St Thomas USVI |
| Dec 16, 2019 | Dec 26, 2019 | Unavailable: St Thomas USVI to St Thomas USVI |
| Dec 29, 2019 | Jan 05, 2020 | Booked: Saint Thomas, USVI* to Saint Thomas, USVI* |
Rates
High Rate:


22,000 USD per week
Low Rate:


22,000 USD per week
MCA Compliant: N/A
Rates are Plus Expenses


Additional Rate Details:
All-inclusive rates are available: $26,000 for 2; $27,000 for 4 and $28,000 for 6 for one week+ charters in the VI, excluding Anegada.

Christmas rate $24,200/wk + ALL
Summer Base Port: New England
Summer Operating Area: Bahamas, New England, Florida
Winter Base Port: Virgin Island
Winter Operating Area: Caribbean Virgin Islands, Bahamas, Caribbean Leewards
Location Details:
ISLAND GIRL is available in the Virgin Islands for winter From Jan to March - minimum 5-night charters

All-inclusive rates are available: $26,000 for 2; $27,000 for 4 and $28,000 for 6 for one week+ charters in the VI, excluding Anegada.

NOTE: Due to Island Girl's great rate and cuisine a 40% APA will be charged while in the Bahamas

Bahamas repositioning from Florida with Florida return* ( she will transit to Bahamas after her Winter Season in Virgin Islands.
Abacos/Abacos $3000 Area not available for Cruising at this time.
Nassau/Nassau $4000
Nassau/Staniel $5000
*Inquire - if there are charters in Bahamas near your dates repo fees should not be necessary

US Spanish Islands 2019-2020 ; Due to Island Girl's great rate and cuisine a 40% APA while in the Bahamas and Caribbean will apply.

St Thomas from Jan - March- 5 night min on charters.