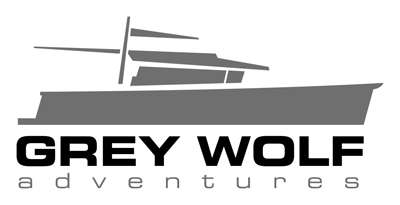 Availability
| Start Date | End Date | Details |
| --- | --- | --- |
| Jul 09, 2023 | Jul 14, 2023 | Booked: Svalbard to Svalbard |
Rates
High Rate:


58,000 GBP per week
Low Rate:


52,000 GBP per week
MCA Compliant: MCA Compliant
Rates are Plus Expenses


Additional Rate Details:
Christmas Week: £64,000
New Years Week: £67,000
APA approx. 35% and can be assessed for each trip depending on the itinerary.

Arctic Rates*
Rates are assessed at £8,000 GBP per day
Weekly rate of £56,000 GBP + expenses
* additional 15% fees apply for Guides

Winter 2022/2023 High Price: €58,000
Winter 2022/2023 Low Price: €52,000
Summer 2023 High Price: €58,000
Summer 2023 Low Price: €52,000




Summer Base Port: Guernsey, Channel Islands
Summer Operating Area: Northern Europe, Arctic
Winter Base Port: Guernsey, Channel Islands
Winter Operating Area: Northern Europe, Arctic
Location Details:
Grey Wolf is available for charters in Norway, Svalbard, Iceland, Greenland and North West Passage, June to September with the addition of Sweden if requested. Channel Islands and Scotland (Western and Shetland Islands) for early Summer 2023.

Rate Details: Based in the Channel Islands, Grey Wolf will be available for 'staycation' charters starting and ending in Guernsey.
The Channel Islands charter rate for cruising is inclusive of:
- Tax
- Breakfast
- Light lunch
- Snacks and light tapas
- 2-course evening meal
- Hot and cold drinks
- House alcohol (table wine and beer)
- Fuel for agreed itinerary
- Marina fees for agreed itinerary
Extras (to be charged at cost):
- Pre-order of any specific food/beverages
- Pre-order of any specific toiletries etc
- Crew gratuity

3 1/2 day itinerary with fixed price of GBP 15,000 based on the above inclusions/exclusions and the below itinerary:
- Day 1, Embark in St Peter Port, Guernsey at 1000 and sail and anchor overnight off the island of Alderney
- Day 2, Mid morning departure from Alderney and sail to the island of Sark with a stop seal spotting at Grande Amfroque on route.
- Day 3, Early morning departure to Herm, don't forget to get up early to watch a stunning sunrise over France. Spend an afternoon of activities on the island of Herm before returning to Guernsey and disembark at 1800.

Stretch this itinerary on to 5 days to be more relaxed with a fixed price of GBP 25,000.